57th FG Veterans attending were:
David Black 65th
Ray Garcia 64th
Dick Grant 65th
Jim Hare 65th
Bob Loucks 64th
Bill Pribyl 64th
George Wilson 64th
David Black 65th
About 40 total folks showed up for the reunion. We are getting smaller, but good things come in small groups!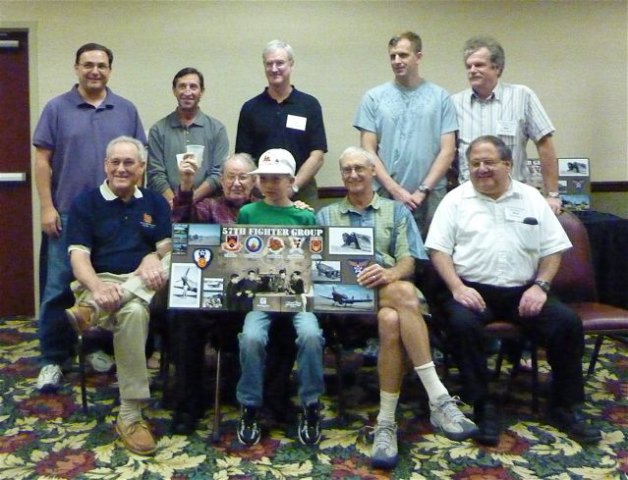 Top: Chris Black, J.C. Hare, Russ Hunziker, relative of David Black, myself.
Bottom: Roy Whittaker (son of Roy E. Whittaker, 65th pilot and ace) David Black 65th Pilot, (toasting) young Jacob Black, John Hunziker, David Black
Jim Hare, David Black at Air Force Museum
Jim Hare, enjoying the visit to the R & D Hanger. He reminisced here about the many different jet types he flew. F-84, F-100 for example.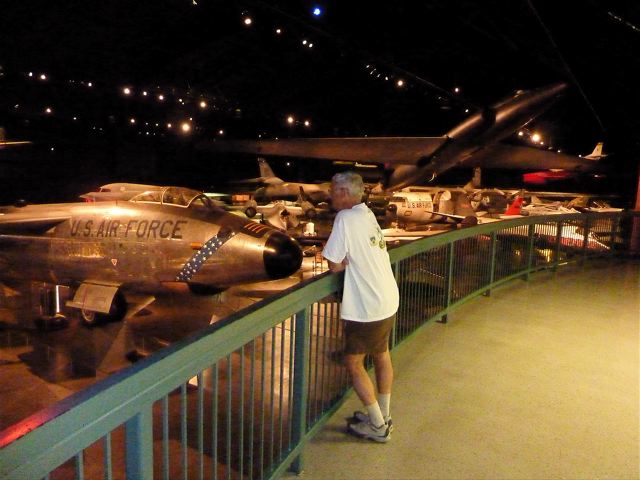 John Hunziker taking a break on the balcony of the Missile Hanger, looking down on all the aluminum
Posterboard put together for the Reunion by the tourist folks in Dayton. Really nice job, the two of them were raffled. Thanks Dayton!
David Black, pilot 65th. telling family what it was like. Models are all 57th FG ships, Italian and German types of the day.
Dick Grant (65th pilot) John Hunziker, and Jim Hare. Banquet dinner.
Earl Morse, President and Co-Founder of Honor Flight Network, giving moving presentation of service they provide for free to WWII vets, and terminally ill veterans, to travel to Washington D.C. WWII Memorial. Check em out at: www.HonorFlight.org
Ray Garcia (pilot 64th) telling how the Partisans with their intimate knowledge of Axis and Allied movements, helped his squadron mates when they first got to Villafranca di Verona Italy.
64th Squadrons George Wilson, Bob Loucks, Bill Pribyl, Ray Garcia, Anna and Bob Scheidly, Peter Allegrinz, son of John E. Allegrinz
Group and Squadron meetings. Holiday Inn, Dayton-Fairborn, Ohio.