I wrote an email report on day 5 and somehow it didn't save as I was updating it as I traveled, and so I am back-filling this missing and last dispatch about our historic military pilgrimage and filing it as I am flying over the Yukon and part of what is the Elias-Wrangell national park, one of the largest in the US. I flew today (May 27) from Rome to Frankfurt and then to Whitehorse, Yukon on the way to Anchorage to then head back East to get back to Seattle (long story...).
I have flown or cruised to Alaska now for the 44th time but have never flown this route and am just in awe of the rugged beauty zipping by below me: tall, steep snow covered snow peaks, massive glaciers and vast unmarked and unspoiled snow fields between mountains. It's summer in Whitehorse, as we had to disembark the 767, with all hand luggage, for almost any hour to keep the Canadian authorities happy, and then re-board. It was sunny and very pleasant to wait outside and talk about hiking with the friendly Canadian authorities.
Yet, you could hardly tell it was summer higher up in the mountains as we flew over them. Then a few specks of that deep blue glacier ice began to appear and then tortoise color of pooling glacial water evidencing that summer is having some impact high up in the Alaska wilderness; then giving way to lakes and the green valleys of the Chugach Range as the plane approached Anchorage.
I quickly cleared customs in Anchorage and caught an early flight to Seattle. Anchorage
was still brown when I left 2 weeks ago and has now turned green at last after late and
large snowfalls.
A rather routine and familiar ending to a rather unique and consciousness expanding trip abroad. It was filled with many wonderful sights and sounds, created and cemented new contacts and bonds that should last another generation or two. It paved the way for more communication and collaboration to keep us connected to our colorful history and to keep the legacy of the Fabulous Fifty-Seventh alive.

It made me proud to be an American and to be a son of a soldier that was on the First Air Echelon to North Africa and was among the "First in the Blue".
Bounjourno and happy Memorial Day.
Our 57th FG contingency has grouped for a mid-morning breakfast at Camp Darby at the Ciasa De Gahja Eatery -- nothing fancy, or very fast -- typical American foods at reasonable prices.
We shopped at a PX and commissary for batteries...then on to Pisa to the Field of Miracles (Campo dei Miracoles) which contains an awesome cathedral (Duomo) and Baptistery in addition to the more famous Leaning Tower (Torre Pendente). Since I am taking a train to Rome this afternoon to catch a plane home tomorrow, we didn't have time to climb the Tower, which have reserved times and a 15€ price tag. Instead we paid 2€ each just to visit the Duomo, which is totally impressive in it's own right, even if the Torre gets more attention, because of it's engineering defect, which as it has turned out has become it's famous aspect. One wonders how well known it would be if the tower stood straight up?
I was dropped off at the Pisa Centrale Treno Stazione by J.C. Hare (driving the van) and have left the group after a very eventful and experience filled journey. I am at a McDonald's enjoying a beer, waiting the 5pm train to Rome where I will meet Peppe who will take me to the Rome Airport Hotel for my flight home tomorrow.
Our friends here have shown us tremendous hospitality and opened their doors wide for us. We will stay in touch, see them at 57th FG reunions and hopefully return someday. Maybe when the USS Corsica museum opens?
We got lots of TV and print coverage -- twice on TV and three times in the newspapers.
Yesterday the Corse-Matin covered our event at the college (where the Alto runway used to be).
We have been tremendously blessed and are very grateful to have experienced it all!
Hopefully for all of us, the remaining day will just been routine traveling: dragging luggage around, using up our local currency (Euro's), when won't be hard to do, and catching trains, planes and automobiles.
Unless it something is worthy of writing, I will sign off and say arrivederci!
Don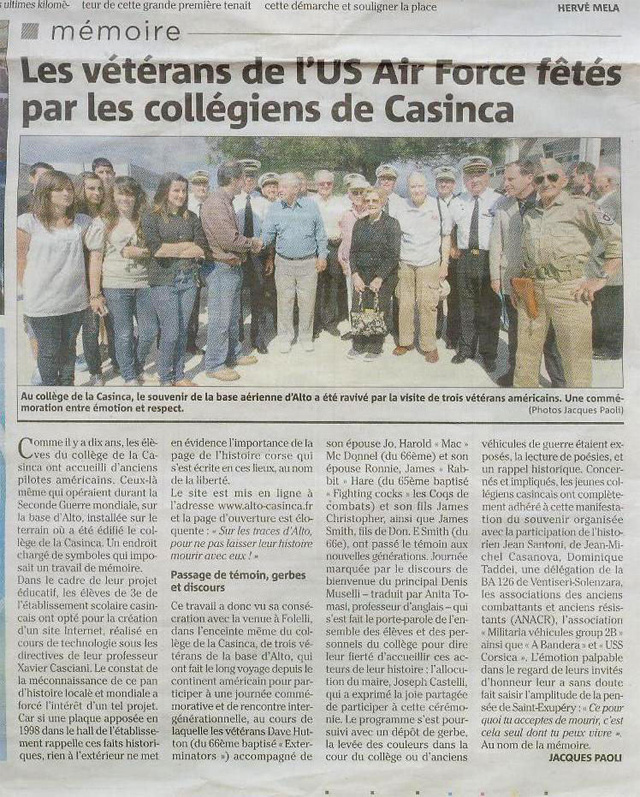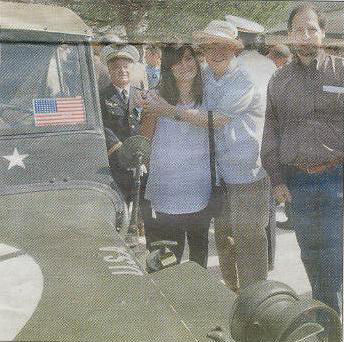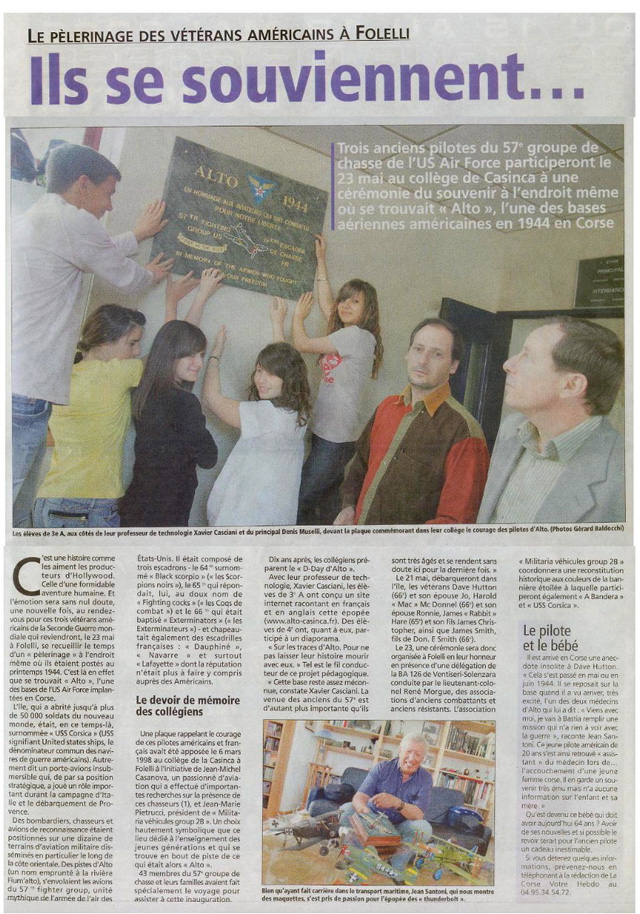 Today we had breakfast, packed up, checked out, stored our luggage while we had some free time to explore Bastia, shop the local Sunday AM flea market on the Place de St. Nicholas for last minute gifts and souvenirs, or another outdoor market near the large church which had a 10AM mass which sold fresh fruits and vegetables and the McDonnell's got some Chevre fromage that we enjoyed onboard the ship/ferry to Livorno. I bought Carol (my wife) some earrings made of a special shell material ("eyes of St. Lucia) that I have never seen before. It proved to be the most appreciated souvenir that I gave her. I also bought her some loose cabochons so she could make her own designs as she is a accomplished jewelry designer.
A convoy of three vehicles and our Corsican friends (Jean-Michel, Denise and husband and Christina got us to the port and helped get us and our gear onto the ship. We boarded rather uneventfully this time and got situated in the same area on the Moby Vincent as we did going to Bastia the first time. Our friends waited and waved from the pier until out of sight as we were up on the upper observation deck. We have been given such hospitality and friendship that it is hard to overstate. We will miss them and hope to return again. We will likely see a Corsica contingency next at the 2009 reunion in Windsor Locks, CT.
After some did a little napping Dave, JC, Jo and I did some planning on the ship for the Branson reunion coming up in late Sept.
I was able to change our 2 car reservations for one 9 passenger Fiat Ducato van (like we had initially in Italy). That took a long time to arrange, pick up and check out.
With all of us and a couple at a service station pitching in, we found ourselves at Camp Darby which was not marked with any signage. It was at if they wished to keep it somewhat a secret.
It is a U.S. Military base resort on a NATO base, but it is not a NATO operation. We had a big problem: it is only available to active service or retired US military personnel and up to 4 guests -- and we are a group of seven with only one retired member among us. We were escorted to the MP office and it took a lot finagling to get permission to be on the base. Eventually, we got the clearance and they let all of us stay. We were able to get to a set of lockboxes and retrieved our cabins assignments and keys and got into our rooms and then gathered up to go out to dinner at a Pizzeria in Trineria on the coast.
That lasted until 12:30am.
Tomorrow: to the Leaning Tower of Pisa and the Field of Dreams. I will take a train back to Rome (and to Seattle via Frankfurt, Whitehorse, and Anchorage) and the rest will stay one more day and fly out of Pisa to JFK via Madrid.
…with the 57th FIGHTER GROUP in Italy,
Don Everly Smith
Our first stop today was a reception with the Mayor and Town Council of
Villa-di-Pietrabugno, the village of 3,000 people where Jean-Michel lives at 900' above sea level overlooking the harbor town of Bastia. They have a great view.
We had the meeting in the council quarters with impassioned speeches. Two Corsican World War II army veterans were also there. One Infantry man named Rossi trained in North Africa (Algeria, Tunisia) and fought in France and Germany: St Tropez, Marsailles, Leon, Dijon…all the way to Paris. We had a champagne reception as well.
Finally dinner was back at Le Zephyr where we felt very welcomed and were well fed. Jean-Michel joined us and Jean-Marie, his wife and son, Jean-Etienne.
Bonjour! Today the 57th moves out for a reconnaissance operation at Alto. The area where the 57th
FG were based in World War II and flew their missions into Italy during operation
Strangle, cutting the Axis supply lines for Southern and Central Italy.
Later, they also flew into Southern France and in the Genoa area. The town is Folelli and the area where the Alto runway was, is now a college (actually a public school), Le College du Casinca. There is an active movement to rename the school "Alto" to commemorate the 57th FIGHTER GROUP.
Alto (named after the Alto river -- more like a stream that ran along the old airfield), where the 57th FG was stationed, was one of 17 airbases stretching one after another up and down mainly the east coast of Corsica. It was so concentrated, that is got the nick name of USS Corsica. They flew P-47 "Thunderbolts", P-38 "Lightenings" and B-20 and B-25 "Mitchell" Bombers. The makeshift airfields couldn't handle heavier bombers.
A few miles out of Bastia, we pulled and to our amazement, there was a World War II US. Willis jeep and driver in full US uniform (I recognized him as the owner of the Rancho Bar from last night), then another vintage Jeep joined in , then a larger personnel carrier, then a double axle army truck. Wow, we are now a convoy of about 6-7 World War II military vehicles converging on Alto. Picking up more and more along the way, I rode in the large double axle truck which was numbered with "Texas Squadron 3-DI", which is appropriate for me (being from Texas), next to a driver that was dressed in a Khaki general uniform. He raised the front window for the fresh air experience which felt great until a bee flew into me, striking and stinging me on the neck. Not all that bad of a sting and still worth the experience!
Our World War II convoy arrived with sirens blaring into an open courtyard with the entire school waiting for us, 6-8 retired French Air Force Officers in white uniforms, press, TV journalists and cameras, and dignitaries. Jim Hare seemed to be a star attraction. His picture (now & then) was published in the local weekly newspaper, "La Corse -- Votre Hebdo", a day or two before we arrived, so they knew his story and recognized him first. The newspaper spread covered all of two pages and also included a picture of Jim's "Wicked Wabbit" P-47.
After milling about with the 3 pilots being interviewed and students practicing their English on those of us in the entourage, we moved inside for a ceremony in front of the 57th FG plaque dedicated on the first historic return of a contingency of the Fabulous 57th Fighter Group in 1998. Speeches were given by the principle, teachers and Dave Hutton, our group commander. A large flower wreath was presented and laid below the plaque to honor the fallen heroes.
We then visited the computer lab where another new plaque was presented to commemorate this 2nd historic return of the 57th that was made in the computer lab by the students on CAD-CAM and laser equipment. They gave us small laser cut clear plastic key chains in the shape of the island of Corsica as mementos.
After refreshments, we had a raising of the flags with national anthems next to the Jeeps, a student reading Wayne Dobbs poem, "First in the Blue" from the definitive book -- "the Fabulous 57th Fighter Group". They even sounded an authentic air raid siren. More acknowledgements and then we said our good bye's and were whisked off in Jeeps (I was in a Willis now) to a Restaurant just up the beach from Alto for another unending feast of about 6 courses of delicious local cuisine and wines. This banquet was attended by all of those in vintage uniforms and driving the military vehicles, and our expanding circle of friends which now call us family.
The whole series of events were very heart warming and moving. Our coming to Corsica meant so much to Corsican friends, that it is hard to describe. We were all very appreciative of each other.
The TV station aired their coverage of the event at 7pm, for about 5 minutes.
Back at the Hotel Posta Vecchia, we siesta'd for a while, reconnoitered, and the 7 of us and Jean-Michel Casanova, enjoyed another fine meal at Le Zephyr, dining partially al fresco.
Tomorrow -- we meet the mayor.
From Bastia, Corsica, goodnight!
Click here for a link to lots more photos of the celebrations going on at the college!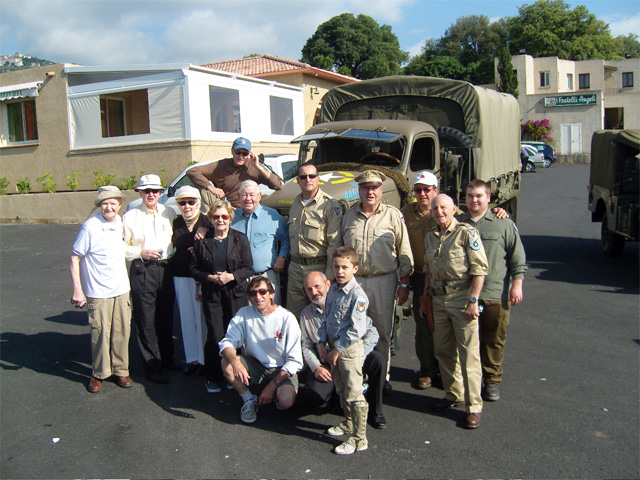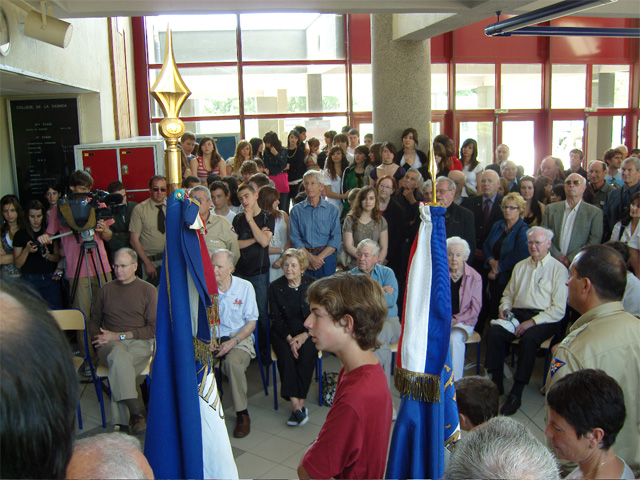 Corsica is any absolutely gorgeous -- a well kept secret from most Americans -- a rocky island with a 9,000' peak. The city of Bastia is on the NE coast in the section of the Island known as CapCorse (or the head of Corsica) and is the largest port. Wandering through the narrow streets and alleys produces endless opportunities for snapping pictures. I ran out of memory yesterday and went out and bought another 2GB's of SD card. That brings me up to 7GB's for this trip. More than I expected!
We are on a 3 CAR convoy to a Monastery of the order of St. John where there is an American monk from Michigan with whom we have any appt. at 11:30am. It is now 11:30 and we aren't there yet. It is up in the mountains on the west side of the island at Carbara, near the town of I'lle-Rousse ("red island"). The scenery is beautifully adorned with various flowers and along the road with what appears to be bright yellow Scotch Broom.
We just made the coast -- gorgeous! The water is such a deep turquoise azure blue.
The movie, The Longest Day (about D-Day), was filmed just north of here at a long beach -- Solace (on map look for Punto di Solace).
Convent Saint Dominque of Corbara

We are now driving out of I'lle Roussa after a wonderful visit at the convent hosted by the Prier -- Pere John Michael Paul, a wonderful man and dedicated priest from Michigan and most impressive in many ways. He gave us a complete tour of the cloister, the refractory (where we enjoyed a delicious lunch) and tour of the church, library and room where the vestments and items used in masses and services are stored and put on. He introduced us to there collection of resident land turtles in the cetral tgarden of the cloister. It is a lovely setting which you can confirm, if you like, by going to the website of the order of St Jean: www.stjean-corbara.com.
We returned via a more northern route along the coast any toured through an area known as "Desert des Agriates" a more arid area of striking geological and scenic interest, passing by the coast town of St. Florent, before heading inland to cross over to Bastia. Along the way we had great view of the mountainous "Cap Corse" to the North.
We stopped in Patrimonio for some wine tasting at the Clos Marfisi winery and enjoyed a Muscat and a red ("Le Niellucciu"). I picked up a red to bring home.
Back in Bastia we had a private reception/dinner at Rancho Bar and took over the place.
There was Jean-Michel Casanova, Dominque Taddei (wrote the book: USS Corsica -- who is working on USS Corsica/Fighter Squadron Edition), both an Air France and Corsica Airways pilot, a man -- Jean-Marie that restores World War II Jeeps and runs the restaurant, and his darling little boy, Jean-Etienne, and our lovely lady friends: Christine Murati and Denise Choley, among others.
After the dinner, JC and I went out for a last cocktail and discussed 2nd generation plans for an outreach to the 2nd and third generations at the reunions going forward.
It is past midnight now--good night and good luck!
Corsica Don

We had to get up very early (5:15am for me) to pack out of the Grand Bastiani Hotel, meet at 6:30am, load up and head out to Livorno (Italy) to catch the ferry ship (Moby Vincent) to Bastia, Corsica at 9am.
We didn't quite pull it off within the time we had planned, and didn't get off until after 7am. Peppe led the way to Livorno and then we had to find the right pier, ship and way to get into the ship, which was not all that clear, intuitive or easy. We got there at about 8:55AM and the rush to get everyone and everyone's things on board, two major pieces of luggage (mine and Mac's) seemingly disappeared. The sailors hustled us along and up the elevators to the passenger decks, as they don't allow any to stay in the vehicles in the garage level where we walked on. The crew insisted that all of the luggage was up in the lounge, which wasn't consistent with what I was seeing, as I saw no crew toting anyone's luggage anywhere.
My inquiry at the information desk was totally non-productive, partially because of my very limited Italian and his limited English and their rules. I asked to go back down into the garage to look for the baggage and he refused as that was the rule. I went scurrying all over the ship to see if I could spot them anywhere else and tried every door that wasn't for ship personnel only. Eventually, I found a door that wasn't quite shut or locked that opened right into the garage area in the front section of the boat. I squeezed myself around the deck tightly filled with cars, buses and trucks towards the area where we walked on and I looked around -- no luggage. I could see an open area past the trucks on the rear port side of the vessel to the left of where we boarded and decided to explore that side. After a bit more squeezing around trucks I got to the other side and around the other side of the dividing median -- there I spotted our two bags. I got them and carried them up as far as I could go up a few flights of stairs to where I could see into the passenger deck but the door was locked. Thankfully Mac was scouting around the floor and I got his attention and he opened the door for me. That was a close call and a big relief for me and Mac. Mac and Ronnie were going to be in NYC for a few days after the group trip and would have been in trouble without his full wardrobe.
The cruise to the Island of Corsica took about four hours. Corsica is a very beautiful rugged and mountainous island. We were met by our Corsicans friends: Jean-Michel Casanova, Christine Murati and Denise Choley (sisters), Dominque Taddei (author and researcher) and Louis-Philip.
They got clearance to drive right up to the bow of the ship where we disembarked and took us to our Hotel, the Hotel Posta Vecchia, operated by a friend of Jean-Michel -- Frederic Vincent. After checking in, Mac, JC and I think Rabbit and I walked over to a park cafe on La Place' du St. Nicholas and enjoyed a cold beer looking out over the Place towards the harbor and the cruise ships. We missed the busy summer season, but it is still a busy place and will keep ramping up as the season heats up. The weather has been just fantastic and even comfortable at night with light clothing on most nights, with just a few hours of light rain,
JC and I did some shopping for more memory cards for our hungry digital cameras. I brought 5 Gigs of SD cards and I was out of memory already. We found a supermarket, Geant Casino, in the newer section north of town that had the SD cards reasonably priced among other things.
I found the place so scenic that I went shutter happy all around town especially on the narrow streets until time for dinner. Unfortunately, I lost the pictures of that and the Corbara Convent (day 6).
We all met Jean-Michel and Dominque later on le Place and walked up a few blocks to a restaurant and had a great meal in the upper room. JC and I resumed our nightly rounds to get a night cap of Cap Corse (an exclusive Corsica aperitif) and or a beer.
Tomorrow: the Convent of St. Dominque in Corbara.
Don
It has been raining most on the AM. The fields are verdant green during the spring. I was told about the big flood of 1944 that sent the forces to higher ground and flooded the city and medieval walled city up to 10 ft. It happened again in 1966. Afterwards, they built dikes to prevent future flooding.
We all rode in the (9 passenger van heading to the air museum overlooking Lake Braciano in Vigna di Valle. This was a first rate air museum, that some said rivaled the Smithsonian NASM in Washington, DC.
It focused on the history of Italian military aviation especially the famous 1933 flight of 24 amphibious torpedo bombers to the Chicago world fair, led by Italo Balbo. It showed many US planes as well.
Most of us had no idea of the magnitude of the Italy's contribution to the development of aviation.
We also got to eat in the base mess hall.
Tonight we pack up for a 6AM departure to catch a ferry for Corsica.
Don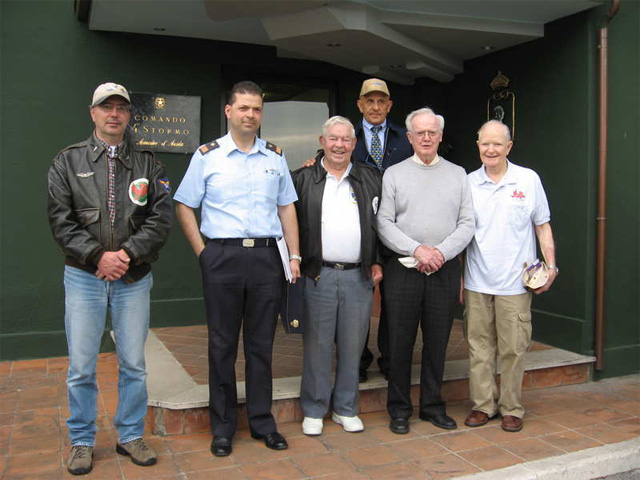 Guys with our "trainer" Gabriele Brancaccio.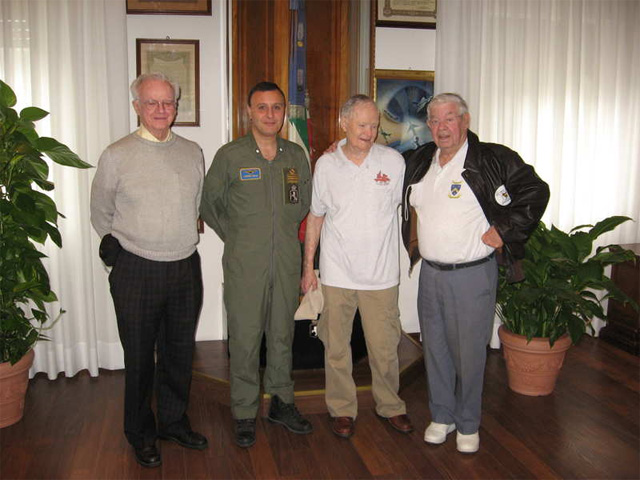 Commander, Colonel Nuzzo and 57th FG Pilots Harold McDonnell, James Hare, Dave Hutton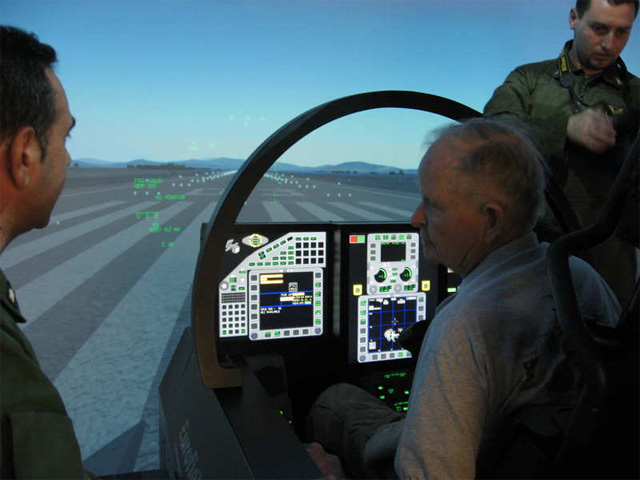 "Rabbit" take the last brief before take off from Grosseto Airport.... Runaway 03 ( notice the hills in the background, Moscona hills just on the right).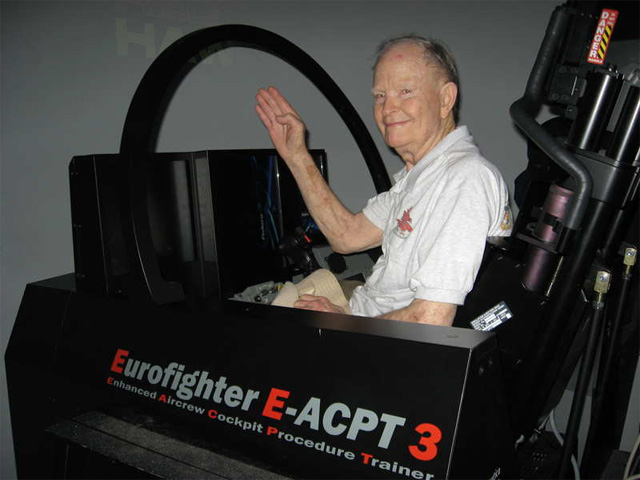 Ready to Take off.
On fly.
Old Pilots....New plane.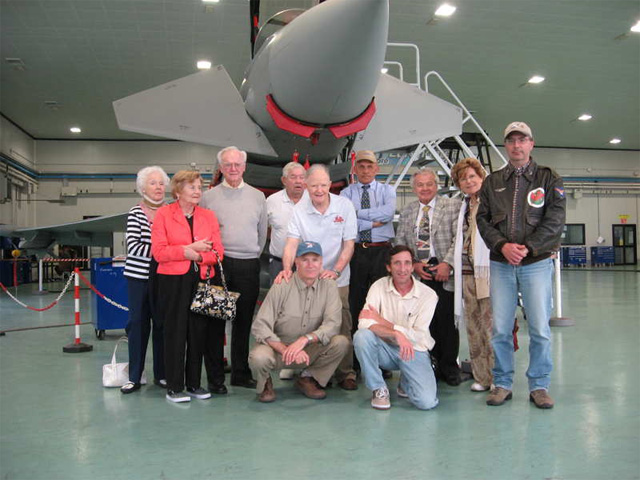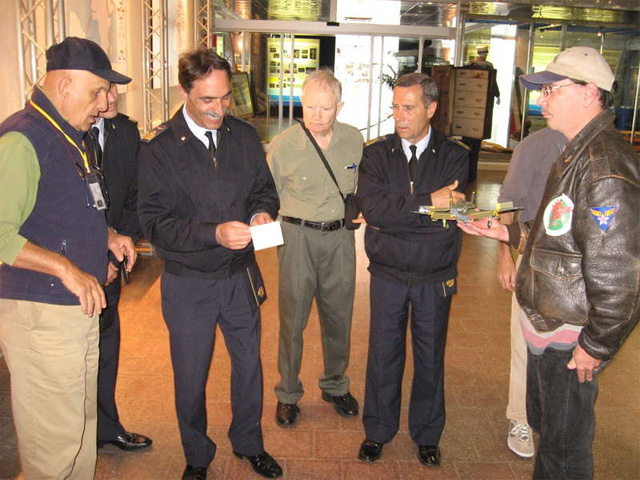 At the Historic Air Museum at the Vigna di Valle, on Lago di Bracciano 30 km NW of Rome, we met with
the Commander of the Airport: Gianni Amadio and the chief of the Historic Museum: Massimo Mondini. Here Marco delivers model of Capt. Paul Carll's 57th FG, 64th FS P-47 Razorback to the Museum.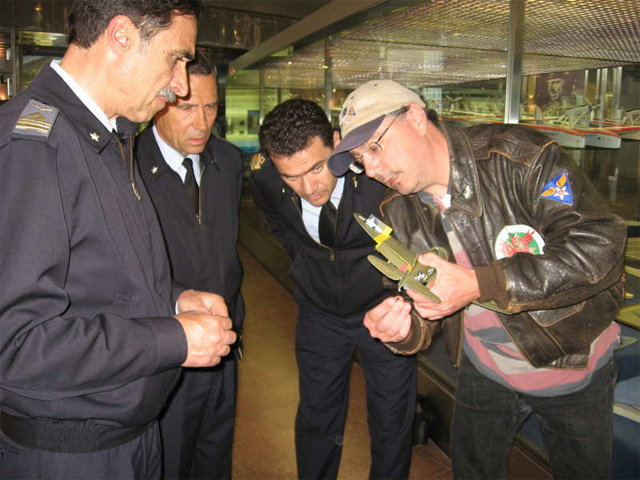 just explaining..... how to change the back tire....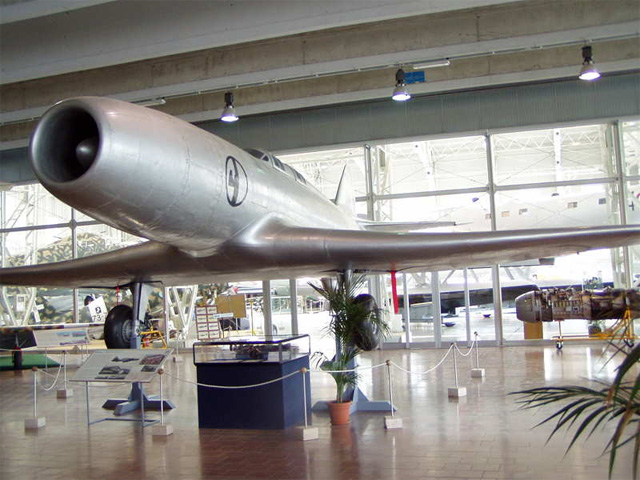 One of the first Jet Plane , CAMPINI CAPRONI CC1 1940 (remind me the Aviator Movie).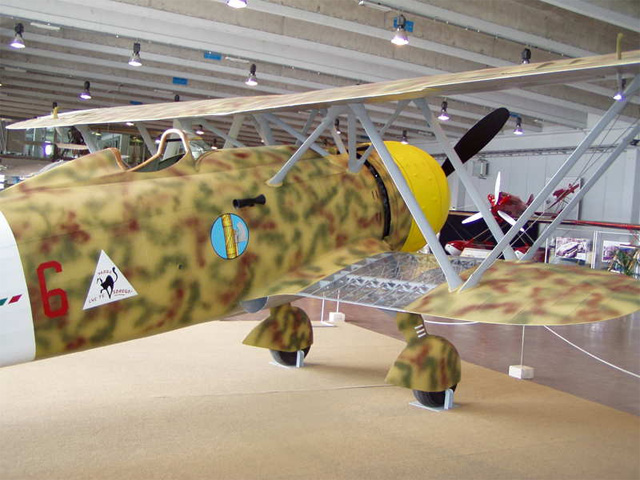 FIAT CR-42 " Falco" 1938.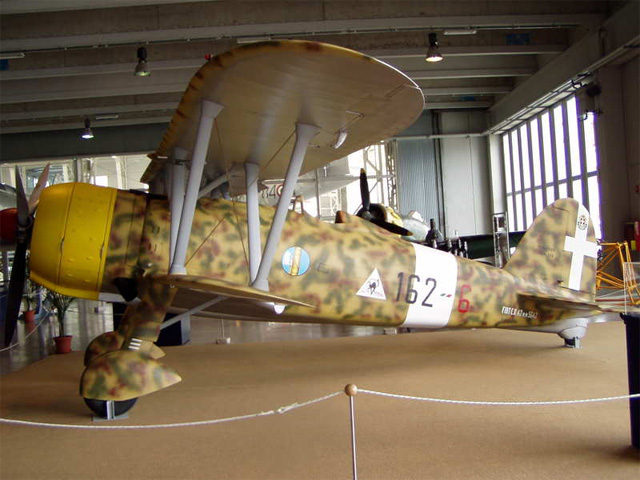 FIAT CR-42 " Falco" 1938.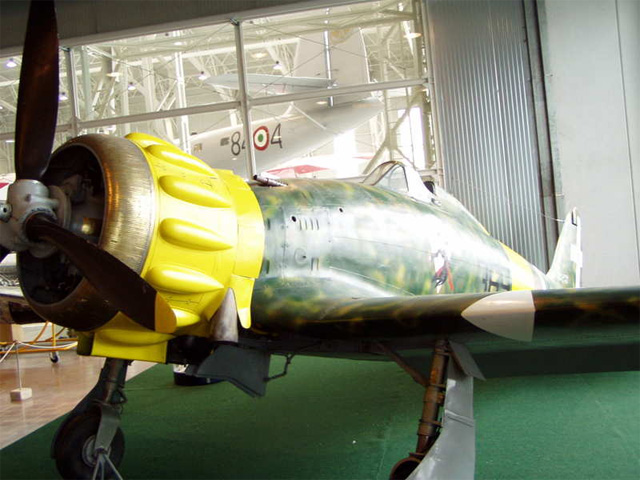 MACCHI MC-200 1941.
MACCHI MC-200 1941.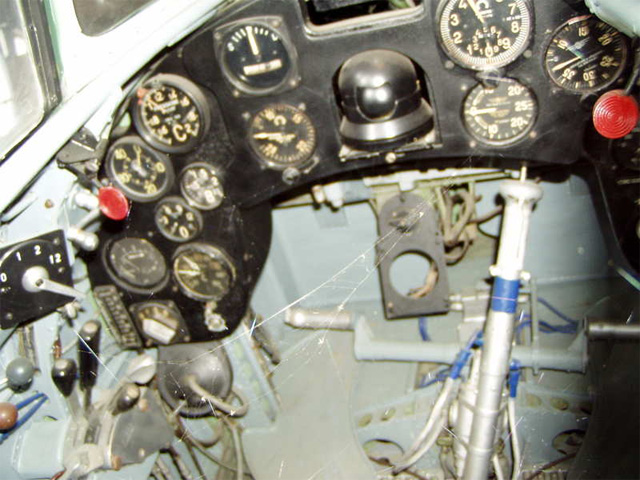 MACCHI MC-200 1941.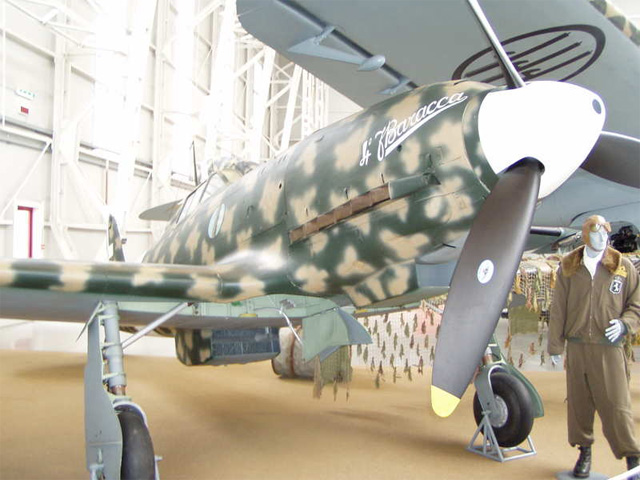 MACCHI MC-202 1940.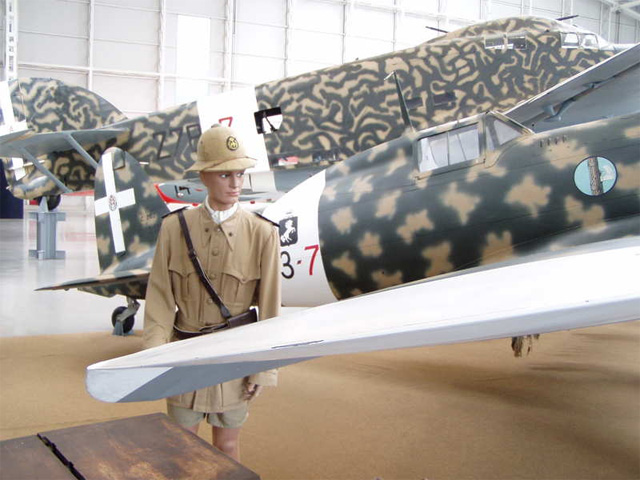 MACCHI MC-202 1940.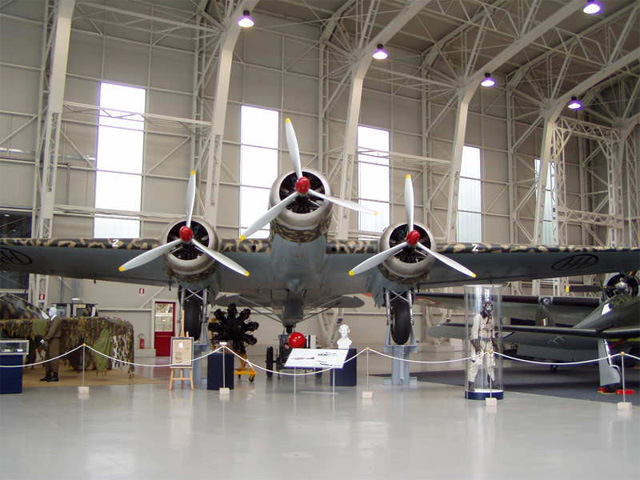 SIAI S-79 "Sparviero" 1934.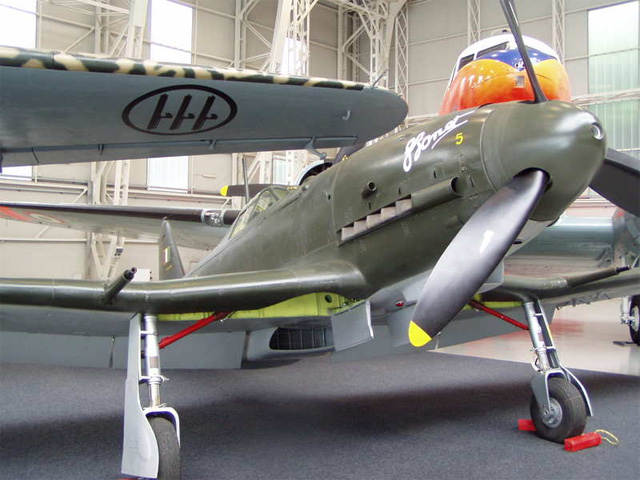 FIAT G-55 "Centauro" 1942.
MACCHI MC-205 1942.
MACCHI MC-205 1942.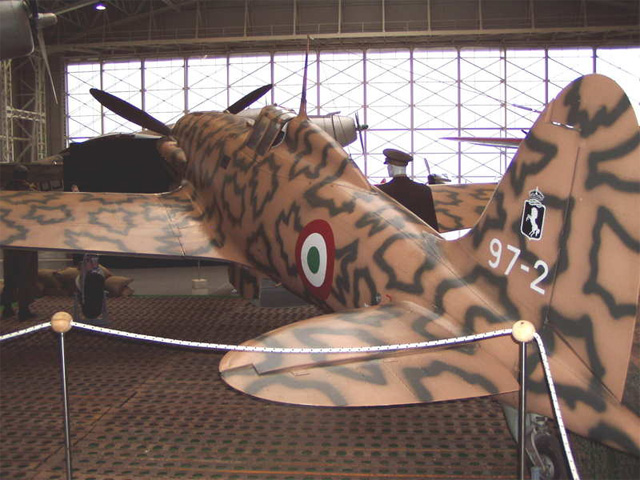 MACCHI MC-205 1942.
IMAM Ro. 37bis 1933 This was found out in Afghanistan near Kabul in September 2006,
That plane was sell to Afghanistan air force in 1938, this is the only exemplar after WWII.
More pieces of that plane found in a desert, so can be restoring soon.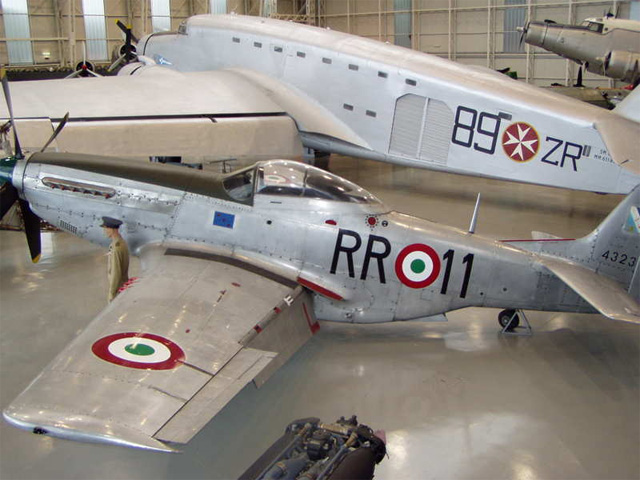 You can recognize the plane down side , and FIAT G 212 cargo plane after the war 1949.
We are touring the Grosseto Air Base and getting lots of info about the history of the air base and about the "Typhoon" EF2000 Eurofighter. They are very proud of it and have been flying it since 2004. They flew the F-104 for 40 yrs -- from 1963 to 2003. The US stopped flying the F-104's in 1963. That was a long run for that bird! We got right up very close to one that was in a maintenance hangar. We are being treated very special to have such access.
We met the base commander and many squadron commanders. We went to flight simulator and watched Jim "Rabbit" Hare do a mock flight in the high-tech EF-2000 Eurofighter. It was fun to watch.
We are now enjoying a lunch, 'pranzo' in Italian, in the mess hall. Pasta, roasted beef and navy beans….
We are enjoying so much here in Toscano (the Tuscany region).
The Royal treatment we are receiving in Italy is unbelievable and impressive! The 3 original pilots are being received like returning liberators and heros. They command amazing respect here.
Before leaving the airbase, we had a parting reception with the Commander, Colonel Vicenzo Nuzzo, and presented him two exquisitely detailed model P-47's- Jim Hare's "Wicked Wabbit" (65 Squadron), and Bob Orcutt's "Trudie Jeanne" (66 Squadron), made by Mark O'Boyle who's father flew A-20's (light 2 engine bombers) out of Grosseto with the 47th Bomb Group at the same time that the 57th FG flew. Mark was here about 2 yrs ago meeting Marco and Beppe who are our hosts, tour guides and set up all of this for us. Mark, blazed the trail for us on his trip. It is impressive how much the local populace has documented and revered what out fathers did here. Right down to missions, pilots, plane, Locations of events, bldgs, dates....

They know a lot more about our World War II stay here than most of those that were here. It is a precious part of their history and an ongoing interest.
Back at the Grand Bastiani Hotel, Marco took Rabbit, JC and I to a park up on one of the corners of the medieval wall that looked across the street to the building that Rabbit stayed in during the war after he left the 65 Squadron to work in group ops. The bldg is still there and looks the same -- as do most buildings here. Also saw a park adjacent to the wall where the GI's played softball and the sport caught on. The Grosseto baseball team is one of the best in Italy! The area now contains tennis courts.
After a short siesta (for me) after a nice red birra in a bar out on the main piazza inside the walled city, we drove out to another secret destination at Marina di Grosseto to the Hotel Rosmarino where Marco works as a chef in the summer. We had a banquet of about 16 people, including Dr. Odorico Tonello, and lovely wife from Ala. They sat next to me and we struggled to communicate with our limited English & Italian. Sometimes it was easier to write words. The Dr. was eleven when he saw Moody hit the wall in the Brenner Pass mission after catching ack-ack.
Sitting to my right was Christiana Ciacci, whose father was James Bittle. She works in the tourist bureau. We took a 2nd generation picture of Christiana, JC (Hare), Marco & I.
Marco displayed a model of Paul Carll's P-47 (64 Squadron) also made by Mark O'Boyle that we are taking and presenting to the Museo Storico Aeronautical Militare.@ Aeroporto Vigna di Valle today right on the shore of Lake Braciano.
Marco created bill boards (we all were given laminated full color copies) special for this event advertising it as a World War II USO showing featuring Zomba and his Junior Jazz combo. Zomba actually performed for the airmen in World War II in Grosseto at the USO as a local musician and singer. He still sings well and has certifiable stage presence & personality. He sang Volare' among many popular, during the day, Italian and American song favorites. Amazing that 64 yrs later that could take place.
It was a veritable feast -- about 10 courses, including wine, spumante, Espresso.... To top it all off, they made us a cake with our "First in the blue" insignia printed on the icing. They did so many things to make it special.
Marco's father Fosco Tarsi, a great, internationally known artist, was there and gave us all a copy of a book that he wrote about the air war and planes in the Grosseto area. He was born in 1924 and had a light hearted balcony exchange (food fight) with the American pilots on the balcony throwing preserves on him. He threw rocks back at them.
The news, TV, was there documenting the event. Our meeting with the mayor was broadcast a day or two ago. We might be on the news again.
The festivities lasted until almost midnight. Lots on fun and strong connections were made and lasting bonds.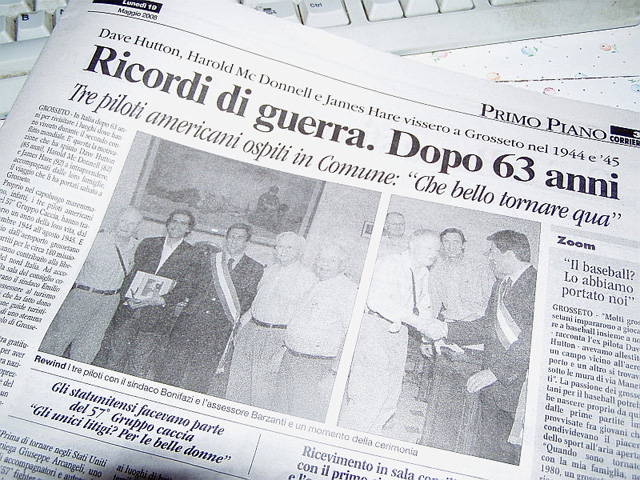 From The Grosseto Paper, The Corriere di Maremma:
The main title says: War Memories. After 63 years Three American Pilots guest of the Major: "It is so beautiful coming back." Click here to read an online article from the Meremma News.
F-104's
Marco the A & P Maintenance Man!

Now & Then Department: Control Tower, Grosseto 1944-1945 Call sign: "Outboard". Courtesy "Tales From The Fighting Cock's Roost by Jimmie Long Jr.
Inside Control Tower Grosseto, 1944-45. Courtesy 47th Bomb Group Picture Collection. Notice the time is 9:15, and it is dark. Good chance talking to 47th BG A-20 which flew there missions at night. Or late P-47 from 57th FG. All analog here, nothing digital.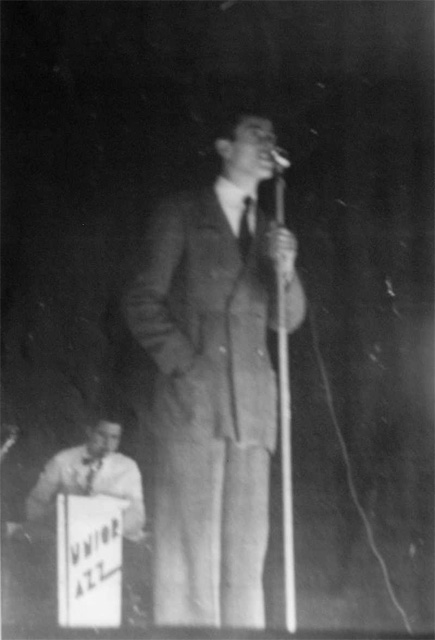 Fosco "Zomba" Marchetti 1945
Let's go party!
The poster I have prepared for that ...I'll send you a copy.
We visited the memorial of the first transatlantic Italian flight (1929 or 30) and the historic Italian Airforce's 1933 flight of an entire squadron of 24 amphibious planes all the way from Piombino to the Chicago World's Fair (finishing up with a grand parade in NYC).
That must have been quite a sight to behold as they landed on Lake Michigan.
We had a great lunch at Ristorante Cacciatore (the hunter) which is situated along the road that the big Italian bicycle race passed. It goes all over Italy -- very colorful.
Then we visited the estate of the Contessa where the pilots and officers of the 65 Squadron stayed while in Grosseto, on the oceanside around Castiglione della Pescaia.
We had dinner at a small public house up in an old hilltop medieval castle. The area is so scenic.
The Hotel at which we are staying is with in the wall of a medieval village of Grosseto.
It is a treat to just wander about and take in the sights and sounds. People get out and circulate and visit during the evenings.
The good Doctor, Odorico Tonello and his wife from Ala in the Brenner Pass (Po Valley) has been with us for two days. When he was an 11 year old boy (ragazzo) He saw James Moody get hit by flak, lose visibility and flew his P-47 into the mountain. He was up close to the wreckage when his older brother (or cousin was conscripted by the Axis army to help pull Moody's body out of the wreckage.
Today we were in the local Maremma (County) newspaper. They covered the special ceremony with the mayor honoring us at liberators. Our pictures were published. We were also on the 7 o'clock TV news.
Ciao, Don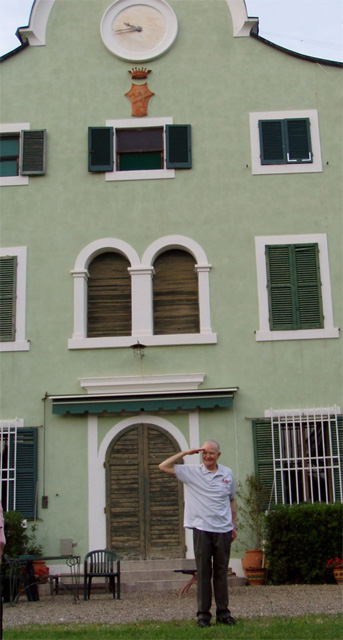 Villa at Castiglione della Pescaia.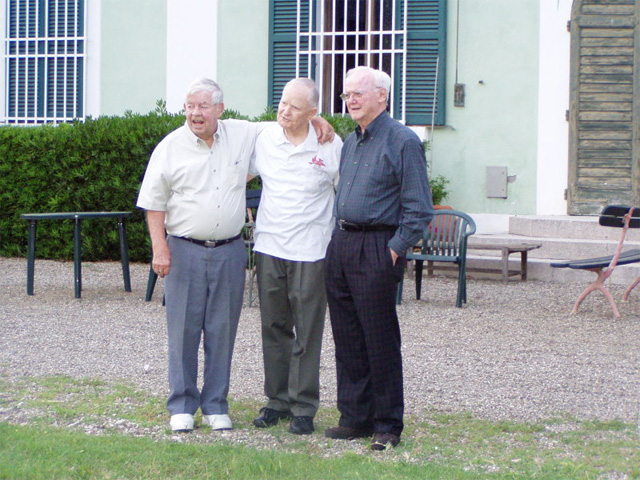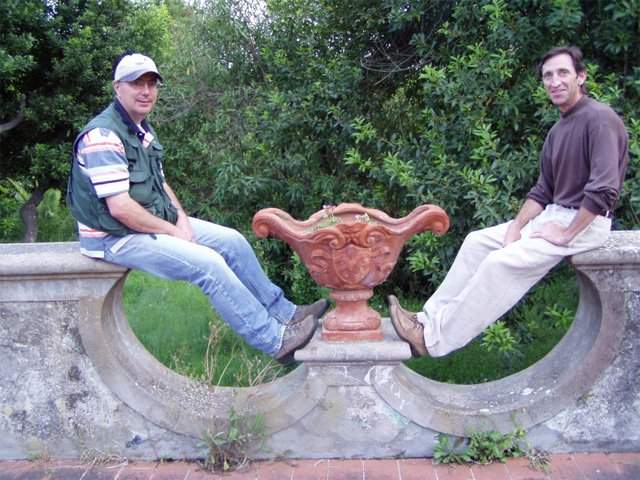 Marco Tarsi on left. James Hare's son JC Hare, on right.
I include this picture taken by Jim Hare during WWII of same villa pilots stayed at for a few weeks. Jim said it was just a little to far from the airfield, so they eventually moved into Grosseto town. Thats the coast road at the bottom. Aircraft is right over the coastline.
I took "il treno" from Roma Termini Stazione to Pisa, passing through Civitavecchia, Grosseto, Piombino, and Livorno; along the coast and beautiful green countryside through Toscano. I caught a bus ticket after missing the train to get from the train station to the Pisa Airport. I met Peppe & Marco in the airport and we got acquainted before the Iberian airplane arrived (late). They rented us a Fiat Ducato 9 passenger van and drove us to the Hotel Grand Bastiani in Grosseto – just inside the medieval wall to the city on Via Corse (because it lines up (points) in the direction of Corsica.
We enjoyed a rather adventurous dinner together inside the walled city at an eclectic wine shop/restaurant that had an old fashioned bicycle from the 1800's parked in front.
The 57th has returned to Grosseto! Harold McDonnell, wife Ronnie, Dave Hutton, wife Jo, Jim Hare, and Rabbit Jr., Don Smith. Day 1 visit to City Hall.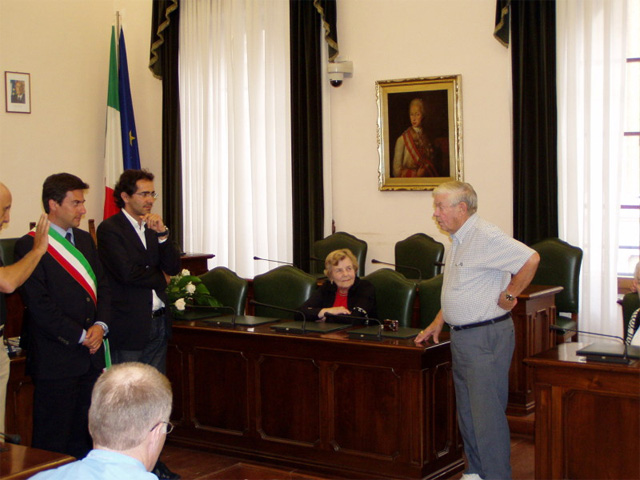 Gentleman with the Tricolor Ribbon is the "Major" of Grosseto.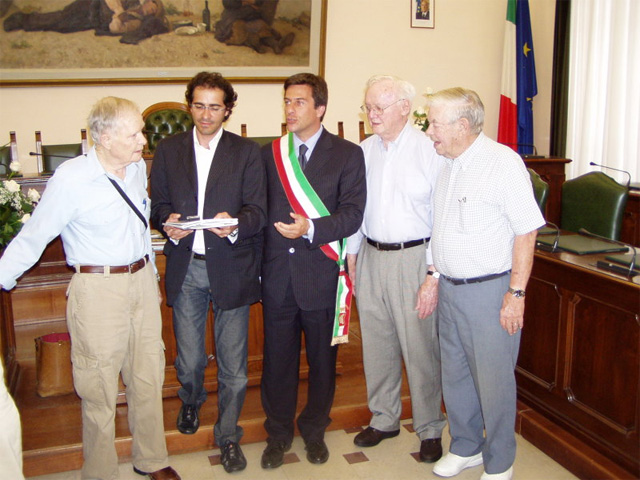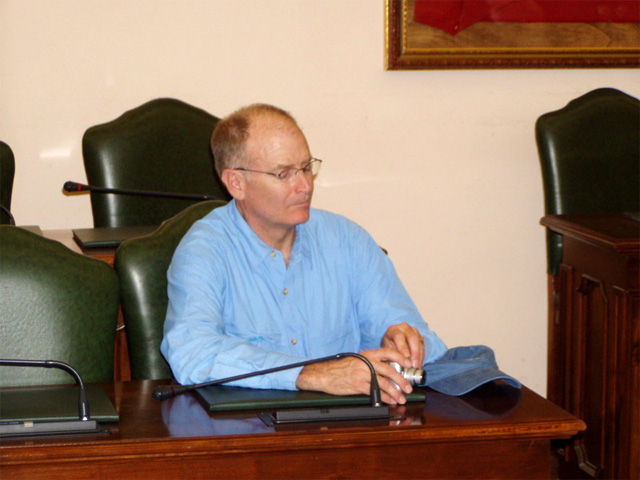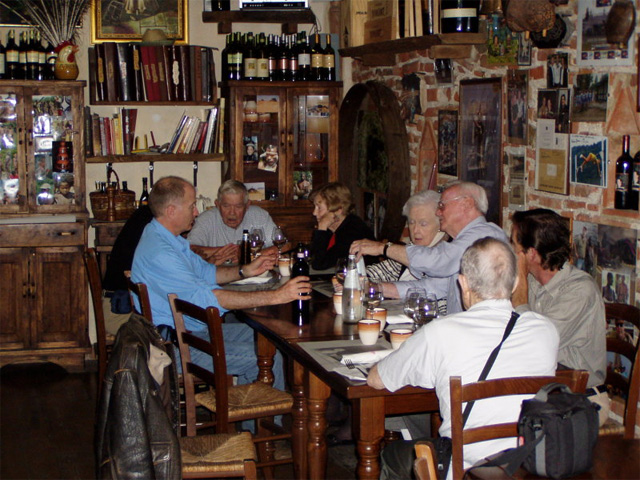 Out to a Restorante to eat. And then rest for next days activities...
This is catching on. This is such a good time to be here -- between cool & hot and before the summer heat & crowds.
I had a beer tonight in front of the Parthenon (now sans the pagan gods) and ate pizza on a back street trattoria out on the sidewalk and met a nice German family and talked to them. I saw a guy that looked a lot like pierce Brosnan at the Parthenon bar--but I couldn't think of his name. What a coincidence! Someone mentioned that they actually saw Pierce Brosnan and wife in this area on a previous trip.
I might burn out on the ruins and churches eventually, but the evening strolling & dining on the Piazzi -- I could do a lot of that!
I hung out in Piazza Navona, listening to street musicians and checking out the artists.
I was so tired after all the Vatican experience. I climbed the whole way up the Cupola -- got exercise and saved 2 Euro for my efforts
I leave tomorrow AM for Pisa
Don
Yes I am in Roma, for the last twenty hours and until Friday AM when I take the train to Pisa to meet the 57th FG contingency: Mac MacDonald and wife, Dave and Jeri Hutton, Jim (Rabbit) Hare and Son (J.C. "James Christopher").

I took a gig of pics of beautiful sights and works of art and met some nice people from
California. The weather is perfect!
This AM, I did the Coliseum, then the Palatine hill and ruins of the Imperial palaces and sights near the
Roman Forum.

Tonight, I did both the Dolce Vita Stroll and the Night walk across Rome -- both recommended late day activities in the Rick Steves book that Yolanda gave me. Although I don't think he meant back to back on the same night! We saw the Spanish Steps, Trevi Fountain, Four Rivers Fountain, Parthenon, Piazza Navona, Campo Fiori where we had lamb chops....
Not sleepy (it's 1am) but feet are tired from walking for most of the last 14 hrs and probably walking up to 6-7 miles or more.
Tomorrow I tour the Vatican St. Peter's Basilica & the Vatican Museum.
Roma Don